As our rōpū approaches the second Te Papa Tupu workshop and Jade gets closer to her goal of a completed (first draft of a) manuscript, she reflects on reading, research and making space for writing.
It feels super meta to be writing about writing, but I've been doing so much substantial, immersive writing working on my manuscript, with a bit of critical writing about art and architecture in between, that I feel like I want to use this space to reflect.
Last weekend, I hit a milestone – 67,500 words, 85% through my target word count for my first draft. I'm aiming to have my first draft finished by our next Te Papa Tupu workshop (17 December) and have two chapters to complete. Although I'm enjoying the process, I've been treating my Te Papa Tupu manuscript like any other project – I plan out my time, and diligently log my hours. Every few weeks, I send my mentor a few chapters. His comments have been unfailingly constructive and positive. I appreciate the way he qualifies his comments with the note – that "this is all perfectly normal for a first draft". His feedback makes me feel encouraged, keeps me motivated, and stops me from being paralysed at key decision points in the journey.
In the bathroom of the airport early this morning, on my way to Pōneke for a work meeting, I wondered how many drafts I will need to go through before this project is complete. My non-fiction project was three to four (first draft, second draft restructuring based on peer reviews, third draft based on editor's feedback, and a final review of the copy edits). Usually the shorter articles I write for publication consist of two drafts, a rough and a final with changes based on editor comments. I guess there is also a round of copy editing but I'm not involved by that point. A critical essay I wrote for an international journey recently went through four rounds of edits. So I guess, there will be a minimum of three drafts before I will submit my manuscript for consideration for publication.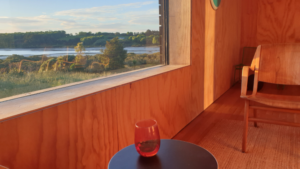 I've been reading a lot, absorbing whole books in a few hours. This is nothing new. But now, I consider it research, and I try to pay attention to the aspects that work well. I've been reading mostly translated texts, and this adds an additional layer – I think of writing as a joint, collaborative efforts by the writer and the editor, and for translated texts, it's a holy trinity of writer, editor and translator. I always like reading the translator notes – there's an art to translating a feeling or a cultural concept without sacrificing readability. Puns and references that rely on a high degree of cultural knowledge are probably the most challenging. Although my book is almost totally in te reo Pākehā, I use a lot of Māori kupu, and I wonder how difficult our cultural concepts will be for international readers. I've been facing this challenge when writing shorter pieces for an international audience, the tension between wanting to be understood and not wanting to translate intrinsic cultural concepts that cannot be easily translated.
I can't remember the exact quote, but I remember reading Ken Liu's translator notes on the writing of a Chinese Sci-fi author. He said the author's most rewarding work relied on a high degree of cultural and contextual knowledge to be understood, and that most of the author's stories were very difficult to translate because so much information was required to make them comprehensible. The story he had translated for that collection was one that was more accessible to international readers, but a deeper reading would be possible for people who had the relevant knowledge. I guess the point of bringing this up is that I think comprehension is layered, and that creating meaning is a two way relationship between the author and the reader. We each bring our experiences, knowledge and positionality to bear on our reading, and the meaning we derive draws on these aspects. I've been trying to keep this in mind as I work through my own project.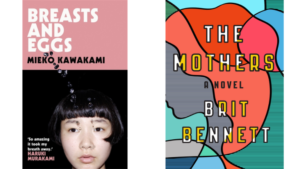 Most recently, I've been reading Breasts and Eggs by Mieko Kawakami. The main character is a writer, and there's a section where she's discussing dialect with another writer. The other writer points out that although some books have dialogue in the Kansai dialect, usually the text itself is written in standard Japanese. She also comments that regardless of where we are from, we bring our own tone to our writing, and that this doesn't neatly align with our own dialect and way of speaking. I thought that was interesting – we might write dialogue the way we speak, but we likely won't write in the same way. Writing is not merely talking onto paper.
Another book that I read recently was The Mothers by Brit Bennett. The story was similar in some ways to the one I am trying to tell – the protagonist leaves her home town, leaving behind trauma. Later she is confronted with the things she has left behind. The most striking thing about the book, for me, is the way Bennett effortlessly decentres whiteness. The characters are all Black, unless otherwise noted. With the vast majority of novels published (historically and contemporaneously) by white authors, non-white characters are often positioned as other, with whiteness the default. This is partially an issue of access and resources (which Te Papa Tupu seeks to address), but also bias within the publishing industry. The conscious decentring of whiteness is something I'm cognisant with my own story, where the majority of characters are Māori or Indigenous.
In my (work in progress) novel, I'm trying to talk about lofty themes – Indigeneity and the diaspora, identity and community formation, racialisation and racism. But I'm also trying to tell a compelling story, with memorable characters. I've been plumbing the depths of my own experiences and emotional reactions, and trying to empathise with experiences of other people – real and imagined. I'm also seeking to evoke specific places at a specific point in time, using language, cultural references, climate, flora and fauna – as well as the emotions and memories these might evoke. The majority of my story is set in Australia, across a 30+ year period, and I'm relying largely on memories. But it's hard to remember the less tangible stuff. I've been using the internet to piece together my own memories – Google street view, audio recordings of birds, and at one point, a video tour of a hospital to piece together my own memories.
On matters of tikanga, I'm drawing on my own knowledge, but also research, as I seek to grapple with the issue of how we maintain our tikanga as transplants in a foreign land. What does it mean to be an uninvited guest in someone else's whenua? I know I'm rapidly pushing up against the boundary of my own knowledge and experiences in tikanga and te reo, and will need help on both of these. It's something we talk about within our own whānau and hapū, but it's been interesting to look more widely. I recently read a fantastic thesis on tangihanga practices by Māori in Australia, and the research findings and in particular the narrative stories have helped broaden my perspective of what it means for us as Māori when our whānau die in Australia. I think the experiences of diaspora and the experience of maintaining culture and community in another context, as well as the complex relationship between later migration and settler-colonialism are themes that will resonate with many. But mostly, I want to tell Māori stories, our stories, in all of their complexity and diversity.