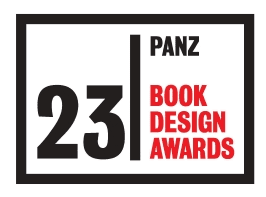 A story of contemporary Māori art from the 1950s to the present day, which contains more than 200 artworks by 110 Māori artists, has been judged the best-designed book in Aotearoa at the 2023 PANZ Book Design Awards ceremony.
Toi Tu Toi Ora: Contemporary Māori Art edited by Nigel Borrell and designed by Tyrone Ohia, with layout by Katrina Duncan, was awarded the Gerard Reid Award for Best Book sponsored by Nielsen BookData. The judges described Toi Tui Toi Ora as an excellent piece of work, that is "strong, clear, and contemporary, but in a way that eschews trends to produce a piece of work that will endure as a good piece of design across time".
As well as receiving the supreme award, Toi Tui Toi Ora was also awarded the Penguin Random House New Zealand Award for Best Illustrated Book and the Te Herenga Waka University Press Award for Best Typography.
Books grounded in te ao Māori were the big winners on the night, making up the bulk of titles singled out for recognition.
The Upstart Press Award for Best Non-Illustrated Book went to a duo, A Fire in the Belly of Hineāmaru: A Collection of Narratives about Te Tai Tokerau Tūpuna and Ka Ngangana Tonu a Hineāmaru: He Kōrero Tuku Iho nō Te Tai Tokerau by Melinda Webber and Te Kapua O'Connor, Nā Quinton Hita i whakamāori, designed by Duncan Munro, cover art by Shane Cotton. The judges were enamoured with this beautiful pair of books – one in te reo, one in English – and praised the way Shane Cotton's visually arresting artwork was complemented by the alternating coloured letters of the fiery title type.
Te Wehenga: The separation of Ranginui and Papatūānuku by Mat Tait, designed by Mat Tait with Megan van Staden, was awarded the Scholastic New Zealand Award for Best Children's Book. It's another honour for the title, which was last month named the Margaret Mahy Book of the Year at the New Zealand Book Awards for Children and Young Adults.
The Allen & Unwin Award for Best Commercial Book for Adults went to Wawata – Moon Dreaming by Dr Hinemoa Elder, designed by Cat Taylor.  The judges found there was an incredible consideration of design care in the chapter openers, which they saw as a deep reflection of the taonga of mātauranga Māori.
How to Loiter in a Turf War: A Novel by Coco Solid, designed by Carla Sy, cover illustration by Coco Solid was named the HarperCollins Publishers Award for Best Cover winner.  The judges fell for the cover's big bold energy, describing it as "irreverent, colourful but with an edge, it exudes a youthful energy reflecting the urgency and tone of the book".
The Booksellers Aotearoa New Zealand People's Choice Award, which is decided during the ceremony by attendee vote, went to two titles, with attendees equally backing Cape to Bluff designed by Luke Scott & Milly Scott and Toi Tu Toi Ora: Contemporary Māori Art designed by Tyrone Ohia, Extended Whānau, layout by Katrina Duncan.
The PANZ Book Design Awards were established by the Publishers Association of New Zealand Te Rau o Tākupu (PANZ) to promote excellence in, and provide recognition for, the best book design in New Zealand. Click here to check out the full list of winners.