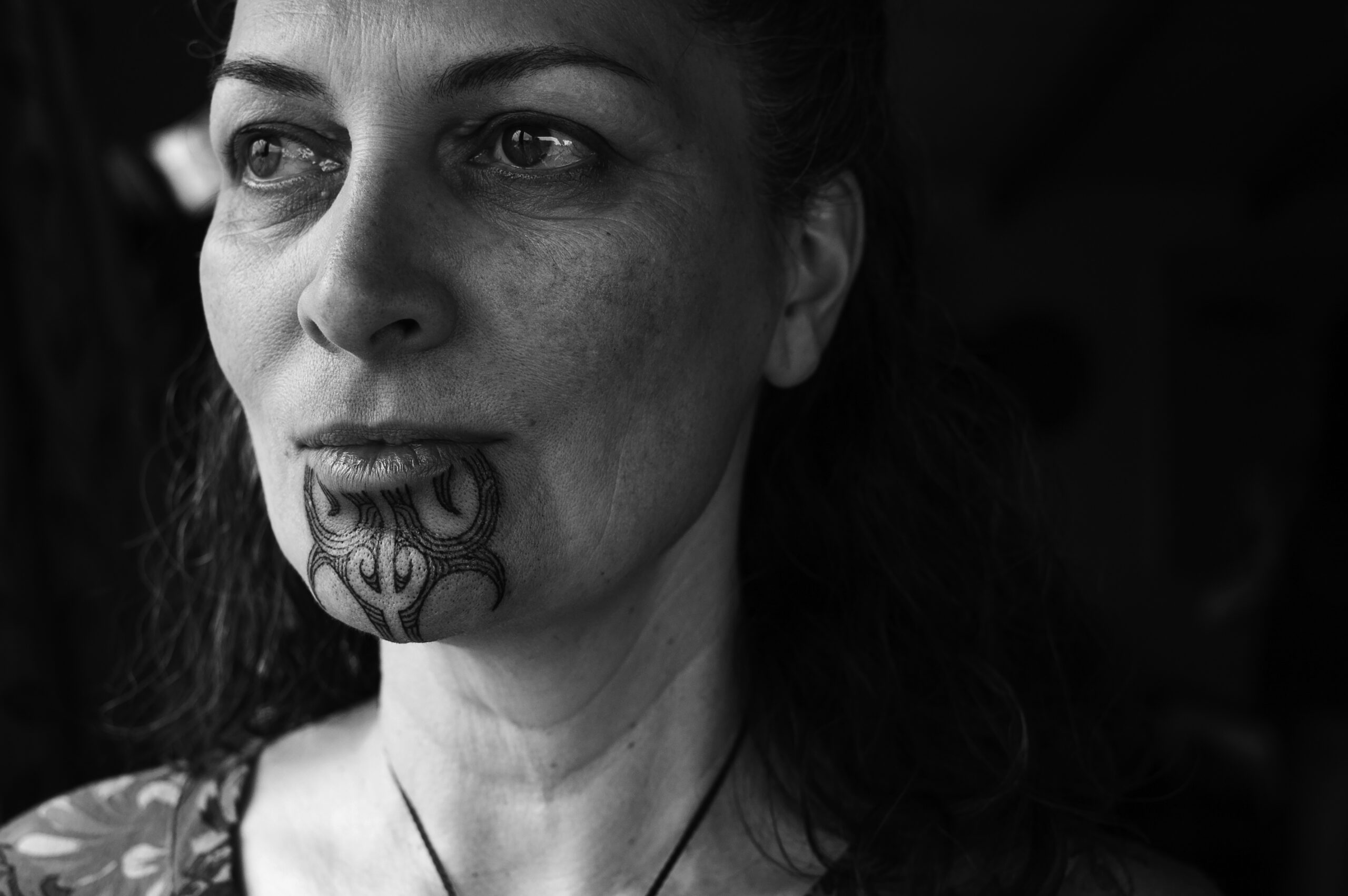 Ariana Tikao is a writer, poet, singer, composer, taonga puoro practitioner and New Zealand Arts Laureate. She writes waiata exploring themes relating to her Kāi Tahu identity and mana wahine. Her music has featured on television, film, theatre, dance, and in online videos. Her first book 'Mokorua', explores her journey to reveal her moko kauae, through her kupu and stunning accompanying images by Matt Calman.
This book is a collaboration between yourself as the kaituhi, the photographer and in many ways your kaitā and whānau. What was it like to work on something that's so personal, with a team?
I love to work collaboratively, and even though writing is often talked about as a solitary activity, as a kaituhi Māori, I feel we always have our community with us. The idea for the book arose immediately when I saw the photographs that Matt sent in a Dropbox folder, so they are central to the kaupapa, and hold such a power in themselves. I think this is because of Matt's skill as a photographer, but also that he was able to capture the aroha and palpable feeling of support in the room, from my friends and whānau. It was also lovely to have my tāne Ross (who is Matt's cousin) doing the translation of my kupu. It was very much a whānau affair. Christine Harvey is also a massive contributor in terms of her wonderful mahi, but also her gentle but strong āhua, and her pūkenga as a tohunga tā moko.
What do you think your tīpuna would think of your book? What would their reactions be?
I hope that my tīpuna are happy with the pukapuka, but also of all the mahi that is happening to revive their cultural practices. I love that whakatauki 'Mā te huruhuru ka rere te manu' and I see their taonga tuku iho essentially as the feathers that clothe us and give us the ability to fly. The equivalent of that 80s Bette Midler song 'The wind beneath my wings' (lol).
Publishing a book can be difficult, especially in the mainstream sector, for Māori. What was the process like for you?
It was actually remarkably straight forward. My tāne Ross had already published his book about the life of Te Rauparaha through Auckland University Press, and so Matt and I decided to pitch the idea to them first. Sam Elworthy, the publisher there, was right behind the concept from day one, and helped us to shape it into a book including encouraging me to write my essay which gives context to my story, and why I decided to be adorned with my moko kauae, as well as an exploration into the history of moko within my whānau.
In addition to being a fantastic Kaituhi, you're also a well-respected Taonga Puoro practitioner and musician. How did music influence the creation of this book?
Ngā mihi! There are a couple examples of waiata in the book, including the lyrics of a haka I wrote and sent to Ngahina Hohaia after she was attacked because of her moko kauae. I really felt a lot of aroha for her at the time, and writing the haka and sending it to her felt like the best way for me to offer support. It was a way for me to channel that mamae into something that might give Ngahina a sense of kotahitanga. I talk also about the development of my music and composition, as a way for me to strengthen my identity. You can also see in the photographs that guitars, taonga puoro, and waiata were a big part of the moko ceremony.
What are your dreams for this book?
I just hope that by opening up my story and the photographs of the moko ceremony that it might give people a sense of the importance of this practice, and the depth of the ceremony. I am hoping that this could help to educate people about why there are so many of us who are taking on our moko kauae. I am also hoping it might break down barriers for other wāhine Māori who might be considering their moko kauae.
What projects are you working on now or hope to be working on in the future?
I've just finished my MA in creative writing at the IIML, and hope to get some time to work on developing my manuscript into another book at some stage. My MA folio was a hybrid work of poetry and creative nonfiction including tīpuna kōrero and how their stories resonate and have impact upon our lives now. I also have some other writing and music projects coming up which will keep me busy.
What tikanga or kawa do you apply to your writing process?
It varies greatly, depending on what the kaupapa and context is. Sometimes I get ideas while out walking, or in dreams, so I guess it is all just a part of my process of living, rather than something separate. While doing the MA I would take part in the 'Writing Room' which was a two hour writing session on Zoom, which helped me to have some focussed writing sessions, and I think I will continue on with this process. Ross and I have been doing this at home too, and it helps to schedule in some writing sessions, so we can keep working on our creative projects.
Where and how do you seek feedback on your writing? How do you process feedback that might be different to what you were hoping for or intending?
Ross is an editor and writer as well as a translator, so he has been my first reader for many years, and I also share early drafts with other family members. Now that I have done the course, I have more experience of workshopping other people's work now, so some of us will probably keep in touch and form a group to help support each other's mahi. I think everybody comes to the work from their own perspective and experience, so I try to be open to different ideas, but also just take on the feedback that feels most relevant or helpful for my own vision for the work.
Which book by a Māori author have you read lately that you loved and what did you love about it?
I'm reading a lot of Robert Sullivan's poetry right now, which I'm loving. I really enjoy how his writing is often about everyday things and experiences. He is based in Te Waipounamu now, so I like that there is that connection with the whenua that spiritually sustains me. His use of te reo and te ao Māori concepts flow in such a natural way. Te ātaahua hoki! In his book 'Voice carried my family' he writes in first person as Tāne in 'Tāne retrieves the baskets of knowledge' which brings the kōrero and scene alive for me: "I shimmied my way up the thick vine like a cord plugged into heaven – electricity crackled down the line between my hands, reflexes tightening the fingers…". I was lucky to hear Robert read some of his poems recently during the Verb Festival. Some were from his latest book 'Tūnui | Comet' including 'Decolonising the coastline' – a tribute to the late Keri Hulme, and 'Rock art' which reflects on the insidious nature of racism, in a way that stays with you, like an aftertaste or a last note in a song, that rings in your ears for a while.